If you're like me, you throw way too many things in your glamour dresser. Many people, including myself, are always pressed for storage space and just can't hold onto everything we want to. I'm going to go over some tips for clearing out some room so you can continue to enjoy finding and adding new pieces to your collection.
It seems crazy that we used to be limited to just 200 pieces in the glamour dresser before Shadowbringers. Even after the storage being doubled to 400 and the extra plates being added it's still easy to hit the cap. I've been sitting at cap for a while now. It actually makes me a little anxious because anytime I want to put a new piece in I have to go in and throw out one or two items.
What I really need to do is sit down and go through it thoroughly, so I figured while I do that I'll talk through my thought process along the way in case others are in the same boat.
Decide on Permanent Glamour Plates
This will be different for everybody, but you should figure out how many regular or permanent glamour plates you want. This is really important to me since it helps allocate my resources (400 items) to my needs (how many outfits for tanks, melee, casters, etc). Set aside more plates to the jobs or roles that you play and enjoy the most.
For example, I mostly play tanks and melee so I like to have one glamour plate for each of those jobs (1-4 are tank, 5-8 are melee). Even though the tanks share most gear and I could likely use any of those four outfits on any tank, the extra plates give me more variety to enjoy since I play that role so much.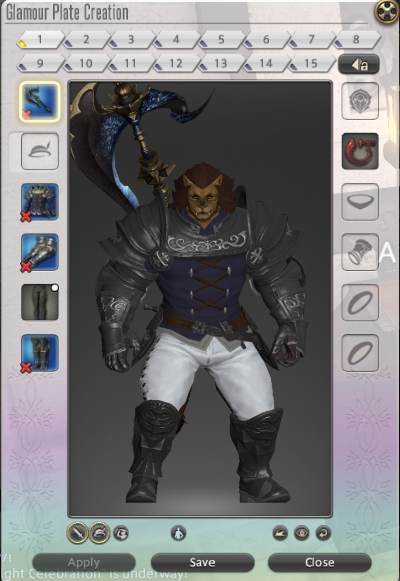 On the other hand, I don't play healers, casters, or ranged jobs too much, so I've only designated one plate for each role (plates 9-11). This way I already have something I like in the rare occasions I switch to one of those jobs.
With those plates assigned, I still have four open slots (12-15). These could be for jobs I'm levelling that can't use high level plates, or if I want a DoL/DoH outfit, or a specific look for a screenshot or event. Having undesignated plates just gives general flexibility which I appreciate.
Having your glamour plates completely full leaves you with no room to throw any of those items out, since you always think you'll need it in case you overwrite that one outfit and want it again later. This is why in my opinion you should set up your semi-permanent outfits for each job (you can still have multiple plates for your favourites) and have some flexible plates available.
Budget Different Categories
If I use 350 of my dresser's storage spaces on body pieces I'm really going to constrain myself when I try to actually create outfits. Determine which types of items you want to have a lot of choice for, and budget space for everything. You don't have to be super strict with yourself, but you do want to have a general guideline so you know which sections have gotten out of hand.
Here are the rough numbers I used to try to organize my glamour dresser. This totals 325 so in theory if I follow this I should have at least 75 spaces free to add new glamours I want to try.
Main Hand – 50
Off Hand – 5
Head – 10
Body – 100
Hands – 50
Legs – 50
Feet – 50
Accessories – 10
Work Section by Section
The dropdown list is amazing for this, and it helps me not to get overwhelmed by looking at 50 items at once. This lets you break the big cleanup into a bunch of smaller, more manageable tasks. You can do all your weapons in one sitting and come back later to do chestpieces.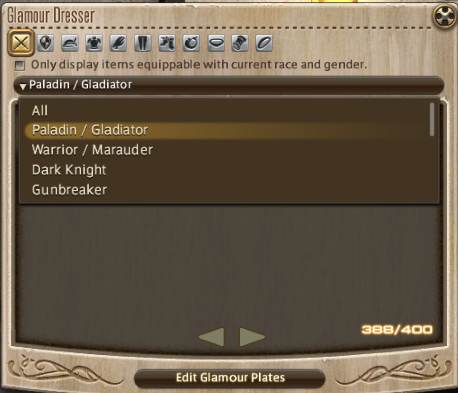 Going job by job in the list also helps you visualize how much space you're allocating to each job. I could be holding onto 15 really cool swords and shields, but if I've decided I'm only ever going to have ONE glamour plate set aside for Paladin, then realistically, I'm not going to try out 15 different outfits. In those instances you'll want to scale it back and decide which items you actually enjoy using, and which ones you'll never get around to.
This also gives you a chance to reassess what your favourite outfits are. You might decide that something cool you got from a dungeon might not actually be better than what you've already got sitting around in your glamour dresser, and you can safely toss it.
Get Rid of Reobtainable Items
The first things you should look to get rid of are items you can get again easily. Vendor or crafted gear, job specific sets, artifact replicas, tomestone gear, gold saucer clothing, etc. Anything you can buy pretty cheaply is safe to remove from the dresser.
Even if it's being used in a permanent glamour plate, you can still get rid of it. The glamour plate is locked in, so you can remove the item from the dresser and your plate will still work fine. If you set up some really good glamours that you love, don't feel like you have to keep all the items in your dresser. You're probably not going to remove that plate and have to set it up again.
I found so many items in my glamour dresser that I can just buy again from the calamity salvager if I need it. At least 20 items I removed were for this reason. The Makai gear takes up more space than you realize too, and if you have the title from the achievement you can rebuy them whenever.
Keep any hard to obtain items. If it takes a lot of resources, or especially a lot of time, hold onto it. Savage loot, expensive crafted glamours, dungeon gear, and primal weapons are all good examples of this. These are the last things on the list to get rid of.
If you've done a race change you'll want to see if any items are no longer desirable to you. I switched to Hrothgar when Shadowbringers came out. I was able to get rid of many head pieces that no longer displayed on my character.
You should also check for any duplicates. I had two of the same Samurai weapons from the Susano fight; I must have skipped over the warning message when I put the second one in the dresser.
Be Selective for Job Specific Items
It's really easy to see something that looks slick and throw it in the dresser, but if that piece is only usable by a single job, it might never see the light of day again. Pieces that are shared among several jobs are much more versatile, so be careful of stocking up on too many job specific pieces. Obviously if you exclusively play one or two jobs you don't have to worry as much about this.
Personally I found I had way more weapons than I thought, which of course are only usable by one job. I had to be a little pickier about which ones I truly liked once I saw how many I was hoarding.
A great rule of thumb is the same as the one for (lower level) crafting materials in your inventory. If you don't know what you're going to use it for in the immediate future, get rid of it. If you like an item but can't imagine an outfit where you would use it, just take it out.
I found that many leg pieces are actually covered by the glamour on the body or feet. For this reason I ended up throwing away some job-specific artifact gear and dungeon drops. Dyeable pants that are usable by multiple jobs are really handy to have. Of course, there are plenty of great patterned pants I kept as well.
Conclusion
I'd say what I focused the most on were trying to keep an appropriate balance between item types, making the most of cross-class equipment, and not storing things I can easily buy. Those are all the things I tried to keep in mind while cleaning out my glamour dresser. At the end I was down to 319/400, so I went from struggling near full capacity to having over 80 free spaces.
Now to fill it back up again with shiny new stuff. Hope you found some useful tips in here, let me know how cluttered your dresser is. Do you have a lot of 'permanent' glamour plates, and do you switch them around often? Leave a comment below.