Allagan Tomestones of Phantasmagoria were introduced in patch 5.05, but as of patch 5.2 they are taking a bit of a backseat to the newer Tomestones of Allegory. However, Phantasmagoria still has plenty of use for both combat and crafting purposes, and you'll still be earning and spending them regularly.
The weekly cap on Phantasmagoria has been removed, but you are still limited to only holding 2000 at once. They're still valuable, so be sure to spend them to avoid overcapping. If you're looking for efficiency, here's a breakdown of which activities earn them quickly, as well as what to buy and why.
What's the Best Way to Get Tomestones of Phantasmagoria?
The weekly cap on Phantasmagoria has been removed, so you can farm to your heart's content. But now that they're uncapped, what's the fastest way to build up these Tomestones? What's the most fun way? For the most part you have all the same options as before, but the amount you'll earn has been increased. Here are some different methods to farm Tomestones of Phantasmagoria, and what each one has to offer.
Roulettes
The most efficient, reliable way to get these Tomestones is to run your various Duty Roulettes daily. If you're running the Expert Roulette for Allegory anyway, you'll also get 60 Tomestones of Phantasmagoria, and whichever dungeon you get placed in will give you 80, for a total of 140.
Most Roulettes give Phantasmagoria as a daily reward as long as you're on a level 80 job, here's a list of their values, with the number in brackets being from the duty itself, separate from the Roulette bonus:
| | |
| --- | --- |
| Roulette | Phantasmagoria |
| Expert | 60 (+80) |
| Level 80 Dungeons | 100 (+50) |
| Level 50/60/70 Dungeons | 120 |
| Levelling | 100 |
| Trials | 60 |
| Main Scenario | 100 |
| Alliance Raids | 100 |
| Normal Raids | 60 |
| Mentor | 30 |
| Frontline | 50 (+50) |
Almost all of these are great options, but I'd say Level 80, Expert, and then Level 50/60/70 are the most time efficient. Trials and Normal Raid Roulettes are also really efficient and take less time overall.
Levelling and Alliance Roulettes are more of a mixed bag. You might have a slow group or get unlucky with a longer Alliance Raid.
Main Scenario, Mentor, and Frontline Roulettes are probably something you'll only look at if you're really trying to squeeze out as much Phantasmagoria as you can get in a day.
Personally I do the Frontline Roulette every day because I'm trying to earn Wolf Marks for the Shadowbringers gear sets, and the Tomestones really add up by the end of the week. I also do Expert Roulettes frequently, so I'm often rolling in Phantasmagoria.
Raiding and Extreme Trials
If you're still farming the Eden raids for gear tokens, you'll be rewarded with some Phantasmagoria as well. The first tier, Eden's Gate, only gives 10, and very few people probably run it right now anyway. The current tier, Eden's Verse, gives 20 and still has people queuing regularly, especially for Eden's Verse: Refulgence because of the weapon token. It should be a relatively short queue to jump in for some quick endgame fights and earn both tokens and Tomestones.
Keep in mind that the Savage versions of these raids do not give Phantasmagoria, only Allegory. If you focus most of your time on Savage progression, you'll need to find other ways to supply youself with the lower Tomestones.
Level 80 Extreme Trials give 10-25 Tomestones of Phantasmagoria depending on how new the fight is. The newest Extreme trial is Cinder Drift (EX). If you've already got a fight on farm, and it's one of your favourites, this could be a fun way to grind.
Treasure Hunts
The Zonureskin treasure maps can produce portals to the dungeons of Lyhe Ghiah, which drop progressively more tomestones of Phantasmagoria as you delve deeper inside. You have to get lucky of course, so it's not reliable for farming. If you're planning to do Treasure Hunting on some day of the week, it can be kinda fun to join a party for an hour or two.
When new crafting materials get added to the Lyhe Ghiah loot table, Treasure Hunting always sees surges of popularity, and you can make some really good gil if you jump on the bandwagon. Some people will buy and run a LOT of maps in search of these rare crafting materials and they usually have listings in Party Finder.
Elite Marks
If you've been invited to a hunt linkshell for your server, you could see callouts for A and S ranks in Shadowbringers zones. You'll get up to 20 Phantasmagoria for contributing to an A rank's defeat, and up to 80 for helping take down an S rank.
I don't do these too much myself aside from the occasional time I respond to a /shout callout, but if you're lucky enough to end up in a hunt train that's doing a lot at once, you can very quickly earn a ton of all three Tomestones as well as Nuts. Keep an eye on /shout chat, and ask somebody for an invite to a hunt linkshell if you're interested in those.
PvP
PvP in this game is not exactly everyone's favourite content, but it's a very, very easy way to earn Tomestones if other people are around. Just before the Garo event ended and everybody was running the Feast, you could queue and finish the match in less than 10 minutes. In the Feast the queues are especially short for healers, and the games are often pretty fast-paced as well, so consider checking it out.
Again, this isn't my number one recommendation for specifically going after Tomestones of Phantasmagoria, but you can use it to break up the monotony of the dungeon grind, especially if PvP is popular at the moment.
What Should I Spend Tomestones of Phantasmagoria on?
Crafting Materials
Aymark <Tomestone Exchange> in Eulmore (10.3, 11.8) will sell you various useful materials in the Phantasmagoria (Other) selection. In particular, the first six items on the list are going to be the most valuable, since they're used to craft current endgame equipment and potions.
These materials and their resulting crafts sell regularly on the marketboard, so even if you don't craft you can get some good gil from someone who does. Which specific ones among them you should sell depends entirely on your server's (or datacentre's) market, based on supply and demand.
In general the Dried Hi-Ether may sell most consistently because it's used to craft stat potions which get consumed. Try selling around the Tuesday reset when people stock up on supplies while they prepare for savage raiding. If your market is oversaturated on that, look into the other materials which are used in crafting the i480 Neo-Ishgardian sets.
You can also buy the previous tier's crafting materials here, used for the i450 Facet sets. At this point you'll probably only want that equipment for glamour purposes, so don't buy any pricey HQ mats. NQ will be fine.
Deepshadow Gear (i460)
Deepshadow equipment is pretty strong, and farmable too. You can easily gear up a secondary job to i460 by grinding out some of these Tomestones. If you have a lot of Phantasmagoria but are still spending Allegory gearing up your primary Job, this is a reasonable option. Otherwise, hold out for the i490 Crystarium set using your Allegory, unless you really love the Deepshadow aesthetic for glamour.
Tomestones of Phantasmagoria are used to buy Deepshadow gear (i460) from Aymark <Tomestone Exchange> in Eulmore (10.3, 11.8). These can be upgraded to Augmented Deepshadow gear (i470, dyeable) from Shee-Tatch <Gear Exchange> right next to him. When you're considering what you should buy first, you typically go for the gear that has the largest impact on your combat effectiveness.
The gear that gives you the biggest boost to your stats is the weapon > chest > legs > head/hands/feet > belt/accessories. For the weapon, you'll need 1000 tomestones AND 4 weapon tokens from Eden's Gate: Sepulture. You can grind those tokens out pretty fast since it's a guaranteed drop.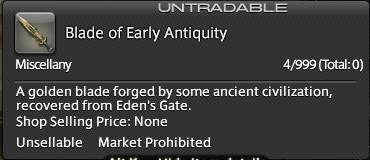 Also make sure to grab tokens from the newest 24 man raid, The Copied Factory, so you can trade them for upgrades and augment the Deepshadow set for another 10 item levels. You can also get upgrades from the Nuts vendors.
Augmented Neo-Ishgardian Gear (i490)
Another form of catchup equipment is available by augmenting crafted gear using Phantasmagoria. It's the same item level as the YoRHa Type-53 gear in the newest Alliance Raid, The Puppets' Bunker.
If you have any of the crafted Neo-Ishgardian Gear (i480), you can trade it in to Hillicen in Eulmore [10.8, 10.7] for Eulmoran Certificates of Novelty. Use Phantasmagoria to purchase Undersea Rain from her, and then trade the certificates and Undersea Rain for pieces of Augmented Neo-Ishgardian Equipment. Make sure you get the correct kind of Rain! Undersea Rain is for Augmented Neo-Ishgardian, Kholusian Rain is for the lower Augmented Facet Gear.
The way the certificate exchange is set up, if you have one HQ piece it will give you enough certificates to get the augmented piece for that slot. If you're trading in a NQ piece, it will take three instead of one.
You can also use Phantasmagoria here to get Augmented Facet Gear, but at this point there's really no reason to. There are easier ways to get better gear, and if you want it for glamour, you don't need the augmented versions.
Summary
I hope this helped you with how to manage your Tomestones of Phantasmagoria! What types of activities do you usually do to stock up quickly? Do you prefer the grind of dungeons, or maybe the variability of PvP or Elite Marks? Let me know down below.