It's here, and it's hugely popular. As soon as patch 5.35 hit, The Bozjan Southern Front was swarming with adventurers eager to assist the Resistance efforts and fight the Garlean forces. This area serves as Shadowbringers' version of Eureka, but with many quality of life improvements. You'll use this content to upgrade your level 80 Resistance Weapon, obtain cool cosmetics, and you can even level up your alt Jobs here from level 71-80.
It's clear the developers listened to player feedback because the experience here is much smoother and simply put, more fun. You can use mounts right away, you can use the special Lost Actions almost immediately, and Critical Engagements are more accessible and entertaining than the Notorious Monster fights in Eureka.
I pretty much haven't done anything in game except The Bozjan Southern Front for the last few days, so hopefully I can pass on some useful information I've picked up. I've found it really enjoyable so far, and the story has my full attention. I can't wait to see what they add later, but for now, here's what you need to know to get started.
Unlocking Bozjan Southern Front
In order to join in on this content, you'll need to have completed the Shadowbringers MSQ. You'll then need to begin the Resistance Weapons questline, which in turn requires you to have done the level 70 Alliance Raids questline (also known as the Ivalice Raids).
Once that's all done, you can unlock the Bozjan Southern Front with the Resistance Weapons Quest 'Where Eagles Nest' in Gangos.
You can enter an instance of The Bozjan Southern Front as a party or solo, and you can join and leave parties while inside the instance as well. An instance can hold 72 players, and you can enter as (or switch to) any Job that is level 71 or higher. If your Job is level 80, you'll receive endgame Tomestones (Phantasmagoria and Allegory) from your activities inside. If your Job is not yet max level, you will instead receive experience.
Since the Armory Bonus experience is lessened above level 70, and levelling through dungeons slows a little for those last 10 levels, I think it's great that they've added another piece of interesting content to help you finish maxing your alternate Jobs.
Quickstart Guide
Follow the questline whenever a new quest is available.
Join a party of similar level players and participate in Skirmishes and Critical Engagements to gain Mettle.
Return to Utya's Aegis whenever you can rank up, which unlocks new areas, quests, and Lost Actions.
After Resistance Rank 2, Appraise Forgotten Fragments and put Lost Actions in your Holster so you can try them out. Lost Shell and Lost Protect have infinite charges, so they're simple ones to experiment with.
After Resistance Rank 5, avoid taking the respawn teleport, instead calling in chat for a raise.
Attune to new Aethernet shards as soon as you can reach them (Resistance Ranks 5 and 8) for easy teleports.
At Resistance Rank 7, your quest ('Third Time's the Charm') will take you to a location in the east of Old Bozja. Go there during the (Eorzean) daytime, since there are enemies there at night.
After Resistance Rank 10, keep an eye out for the Castrum Lacus Litore Critical Engagement, which is a big group dungeon kind of like an Alliance Raid, but with more flexible parties.
Resistance Rank
While your Job level is synced at 80 within the Bozjan Southern Front, you will still level up your Resistance Rank, which gives you access to more Resistance Weapon quests, areas of the map, and Lost Actions. You'll level up by earning Mettle.
Your current amount of Mettle is listed, along with how much you need to reach the next Rank. You don't 'spend' your Mettle to rank up, it's just a running total, and when you have more than the next threshold, you can increase your rank by speaking to the Resistance Commander NPC at [15.0, 30.4].
Starting at Resistance Rank 5, a small amount of Mettle DOES get consumed if you are incapacitated (reach 0 HP), and much more Mettle will be lost if you take the respawn teleport back to the base (Utya's Aegis), rather than being raised. The amounts lost vary with your Resistance Rank. Expect a few hundred Mettle from a death, and one or two thousand from returning. Try to travel with others, and call for a rez. On the flip side, be kind and raise players you see nearby.
Side note: as extra incentive to be a team player, there are actually two sets of achievements and titles that you can earn by resurrecting people. 'Good Samaritan…' is for resurrecting 200 people outside of your own party or alliance, while 'Guardian Angel…' is a new title for resurrecting any players in Bozja 500 times.
You earn more Mettle from Skirmishes and Critical Engagements in later areas. For example, the Skirmishes you have access to right away in the Southern Entrenchment will give you a few hundred Mettle, while the highest part of the map, The Alermuc Climb, will give the most Mettle per Skirmish, over 1000. The amount of Mettle you earn also seems to scale with your Resistance Rank, which keeps your earnings relatively worthwhile, even if you go to help out with activities in the southern parts of the map.
Skirmishes
The meat of the content in BSF is the Skirmishes. These are actually very similar to the FATEs in the overworld, and have various scenarios other than just 'kill the boss'. I've seen boss fights, hordes, item collection, and target destruction objectives so far. You'll be rewarded with Mettle, which you need in order to level up your Resistance Rank.
I highly recommend adjusting your Battle Effects Settings under System > Character Configuration > Character. I set my own effects to 'Show All', my party to 'Show Limited', and others to 'Show None'. This helps tone down the chaos when you're fighting in the field, and makes it easier to see more important visual cues.
It's easier to get credit towards Skirmishes when you have multiple people, so it's always a good idea to join a party. Being in a party also means you've got people who can support you in combat more easily. Try to party with other players of similar Resistance Rank to you so you can all tackle your highest Skirmishes to keep advancing. Leave and join parties as you need. It's helpful to make use of two chat commands here: /shout and /say.
/Shout will send your message to everyone in the instance. If you've just entered, you might type something like "/shout LFG R8", which means "Looking for group, I'm Rank 8." Someone of a similar level will likely invite you to their party, and then you can teleport to a nearby Aethernet shard and meet up with them.
/Say will send your message to only those players immediately around you. Use this if you've made your way to a Critical Engagement or Skirmish without a party, and want to join a party that's also right there, waiting for it to start. A simple "inv please" or "LFG" will usually get you an invite from a party that has spots open.
If nobody responds to your requests for an invite, you can always start your own party by inviting others who ask. Right click their name in chat, and 'Invite to Party'. There is no strict party makeup required, and due to the availability of Lost Actions, DPS are never totally helpless. Still, you should consider swapping to a Tank or Healer if you think your party or the larger group in general needs another one.
Critical Engagements
While Skirmishes can be a bit of a mindless grind, Critical Engagements are, well…more engaging. These play out more like the boss fights in an Alliance Raid, and each have their own mechanics to learn.
There are a limited number of spots available, usually 48, but sometimes 24, so be sure that you (or your party leader) register for one when it starts. There's an audible bell chime when recruitment for one starts, and you'll also see an icon on the button in the lower right of the screen.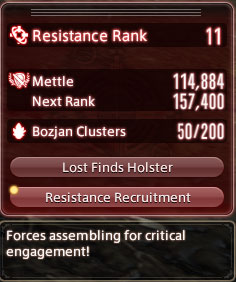 If you've been selected, the Register/Withdraw button will change to a 'Commence' button. Click on that to be teleported to the site of the Critical Engagement, with a 2 minute preparation period.
Kill It with Fire
Triggered by the Skirmish 'All Pets Are Off' in Southern Entrenchment
Quite likely the first Critical Engagement you'll take part in. It's fairly simple, with only a couple of mechanics to dodge. Drops Field Notes on Clarricie.
Dead Leaves – Stand in either a blue or pink section, and alternate colours with each subsequent cast. Your debuff bar shows which colour you were last hit with.
Playful Breeze – Raidwide damage.
Harvest Festival – Summons Rotten Mandragoras at the edge of the arena which send out pink hearts towards the boss. Avoid the hearts! They explode on contact in an AoE, damaging and inflicting Confuse, making you start attacking party members.
Splash Grenade – Stack up on the stack marker.
Splash Bomb – Avoid the player-targeted AoE markers.
The Baying of the Hound(s)
Southern Entrenchment
The boss is weak to physical attacks, so casters and healers can use Lost Steelsling to deal more damage. The hardest part of this fight is probably tracking the paths of the fireballs, especially if you have to dodge the earth AoE from Void Quake.
Void Tornado – Very high %HP raidwide damage. Heal everyone back up after.
Lava Spit – Summons three fire orbs (AoE markers) which get big and start spinning. The flame wheel indicates the direction each of them will travel across the arena. Stand behind or to the side to avoid them. Try to get behind one or two, then look across the arena and adjust for any far away.
Hellclaw – Tankbuster.
Hellpounce – Turns to jump towards one edge of the arena, then jumps across to the opposite edge. Damages anything in his path during jumps, so get away from the middle.
The Lion's Breath – Fire attack in a cone towards the middle. Step to the sides.
The Dragon's Breath – Lightning cone attacks towards his sides. Get in front of his middle head.
Tail Blow – Conal attack behind the boss. Harmless if he's still got his back to the edge of the arena.
Void Quake – Earth AoE travelling from the perimeter of the arena to the center.
Vigil for the Lost*
Triggered by the Skirmish 'More Man Than Machine' in Southern Entrenchment
Basically a bullet hell minigame. Use Lost Spellforge to take advantage of the boss' vulnerability to magic. Dodge the AoEs that are flying around. Essence of the Breathtaker or Lost Swift can help you move around faster.
Crippling Blow – Physical tankbuster.
Plasma Field – Raidwide damage.
Light Leap – Boss jumps to the center for AoE damage.
Area Bombardment – Towers followed by rotating perimeter AoEs. During subsequent casts, the perimiter AoEs will spiral closer and closer towards the center.
Magitek Ray – Magitek Bits around the edge fire line AoEs at random players during Area Bombardment.
Shockwave – Point blank AoE around the boss.
Tail Missile – Even larger point blank AoE around the boss.
*Duel – Avoiding all AoEs qualifies you for the 'Aces High' Duel after this Critical Engagement.
The Shadow of Death's Hand
Southern Entrenchment
The 4th Legion Beastmaster should be killed first, since he continues to summon adds while he's alive. Have one tank on him, and one tank on the big bird, Akbaba. There are a lot of knockbacks in this fight, and it can get a bit chaotic.
Broadside Barrage – Raidwide damage and sets up hazardous wind around the perimeter of the arena.
North Wind (East Wind, etc.) – Huge knockback from the indicated direction, that can be avoided with Arm's Length, Surecast, etc. Arrow markers will appear but they don't give you a lot of time to adjust. Best to move to the cardinal direction named in the castbar. This attack also summons a moving whirlwind in the arena which knocks players back if they touch it.
Bestial Loyalty – The Beastmaster summons two Carrion Crow adds which should be picked up by any available tanks. Try to gather everything together so they can be hit with AoE attacks.
Piercing Barrage – Line AoE from Akbaba.
Broadside Barrage – Wide knockback AoE in the direction Akbaba is facing. Stay close so you can get behind him.
Rolling Barrage – Point-blank AoE with a moderate cast time, but short visual indicator. Be ready to move away.
Hard Beak – Physical tankbuster.
Helldive – Akbaba will jump to a player with a stack marker.
Wrath of the Forsaken – After the Beastmaster is killed, Akbaba will give itself a damage buff.
The Final Furlong
Triggered by the Skirmish 'Unicorn Flakes' in Old Bozja
The main trick to this fight is the hand tether mechanic, which works kind of like the ghosts in Super Mario, where they move towards you if you aren't facing them, and stop moving if you are. Healers, keep an eye on the NPC fighting alongside you, Llofii the Forthright. You can (and should) heal her, and she commands the Monoceros who destroys the hands with the blue AoE. Also, for the 'Taloned' attacks, you can either look at the name of the cast or which part of the boss is glowing.
The Grip of Poison – Raidwide damage.
Taloned Wings – The boss' arms glow blue. Conal attacks on his sides first, followed immediately by conal attacks in front and behind. Move from one safe spot to the next.
Taloned Gaze – The boss' front glows blue. Conal attacks in front and behind the boss, followed immediately by conal attacks to his sides. Move from one safe spot to the next.
Grasp of Rancor – Hands tether to players, and move towards them when the player looks away from the hand (purple tether). When the player is facing the hand, the hand stops moving (white tether). Adjust your facing to lure the hand into the center when the blue AoE hits, and it will destroy the hand.
Stab – Tankbuster.
The Steps of Destruction – Three sets of player-targeted AoEs.
Spite Wave – Stack marker.
The Hunt for Red Choctober*
Triggered by the Skirmish 'Red (Chocobo) Alert' in Old Bozja
You can use Lost Reflect to avoid damage during Choco Meteorain. Very handy if you're not sure exactly where to stand, or if your healers are on the floor.
Choco Slash – Tankbuster.
Choco Meteor Impact – Stack marker.
Choco Meteoruption – AoE markers spawn on random players' locations.
Choco Meteor Stream – Cross AoE with rotating perimeter AoEs. Move to a safe corner, then back to the middle. When the cross appears again, move to a corner that currently has a dark red circle. It will be a safe spot before the cross hits. Repeat once more while avoiding stack marker or player AoEs.
Choco Meteorain – Four sets of proximity AoEs and a stack marker. Move to one edge of the circle to avoid the first sets. Wait for the meteors to land before moving to the next spot around the edge, away from the next set of proximity markers.
Choco Meteor Strike – Line AoE + Arrow AoEs (a.k.a. 'Exaflares'). Move to the side, right in front of the arrows. Avoid player AoEs by moving further away from the arrows and then back to the middle.
Choco Comet – Line AoE + Towers. Move to the side and split up to cover all the towers.
*Duel – Avoiding all AoEs qualifies you for the 'Beast of Man' Duel after this Critical Engagement.
The Fires of War
Old Bozja. Runs concurrently with 'Patriot Games'
This fight is a 24 man Critical Engagement, and seems to be a lot less popular than 'Patriot Games', since everyone always registers for the latter, at least on my Data Center. Either way, this one is basically just a ton of adds, so it feels a lot like a Skirmish with extra mechanics. It's even got a unique map symbol, because it's the only Critical Engagement that is NOT just a boss fight. Having multiple tanks will make it easier, keeping aggro off of the squishier roles.
Pyroplexy – Towers appear around the arena. Have each tower covered by at least one player. The towers have a bright blue outline when someone is standing inside.
Wandering Flame – The flame orb in the middle will cast ring AoEs and point blank AoEs. While avoiding these, run around to each of the bombs with stack markers before they make it to the middle orb.
Hot Temper – A large flame monster will spawn and cast a proximity AoE. Identify the bomb furthest from him, and destroy it to create a safe spot to stand.
Slow Deflagration – The 'boss' will cast a slow enrage, while several of the previous mechanics happen simultaneously. On top of that, you must kill the tethered adds before you can damage the boss.
Patriot Games
Old Bozja. Runs concurrently with 'The Fires of War'
A fairly straightforward fight. The boss is weak to magic, so give physical jobs the Lost Spellforge buff. Tanks should be ready to get rid of the mines, and all melee players should watch out for Searing Conduction, which doesn't give them much time to move away from the boss.
Plasma Gun – Tankbuster.
Magitek Bartizan – Summons untargetable cannons around the edge of the arena, to be charged up with Electrochemical Transfer.
Electrochemical Transfer – Tethers to cannons around the edge of the arena. Each tether puts adds one charge to a cannon, and the cannons fire in a straight line at two charges. Check the red lights above the cannon to see how many charges it has.
Lightning Rod – Three mines will be buried around the arena. Have tanks clear out the mines by walking over them. If they are left alone, they will explode dealing raidwide damage and applying a vulnerability stack.
Firing Orders – Large circle AoEs.
Neutralization – Conal attack to one side.
Electrifying Conduction – Raidwide damage.
Searing Conduction – Large point-blank AoE. Move out immediately, it comes out fast.
Trampled Under Hoof
The Alermuc Climb. Runs concurrently with 'Where Strode the Behemoth'
This is a 24 man Critical Engagement. It seems to be significantly less popular than the other one that runs alongside it, 'Where Strode the Behemoth'. I have only seen it cleared once in person, because usually not enough people register for it.
This Critical Engagement rewards you with 10 Forgotten Fragments of Resolve for completing it.
Where Strode the Behemoth
The Alermuc Climb. Runs concurrently with 'Trampled Under Hoof'
The main mechanics of this fight involve the corpses scattered around the arena. You'll need to watch these Bestial Corpses when they're raised, and dodge their conal attacks. You'll also need to hide behind a corpse at times to survive the classic Behemoth meteor attack.
Wild Horn – Tankbuster.
Zombie Bile – Circle AoEs which always land on two or more Bestial Corpses. The corpses will stand up and fire a huge conal AoE in front of them, then fall back down. Run to a safe spot, usually behind or to the side of one.
Wild Bolt – Raidwide damage.
Blazing Meteor – Raidwide death. Hide behind one of the corpses in the arena to survive.
Zombie Breath – The boss will turn and fire an AoE in front of him, This raises a Bestial Corpse which fires another thunderbolt cone.
Rise of the Robots
Triggered by the Skirmish 'I'm a Mechanical Man' in The Alermuc Climb
The boss is vulnerable to magic, so use Lost Spellforge on physical jobs to deal magic damage.
Basic Training – Front and back conal attacks that damage and knock you back. He spins in the direction of the arrows, so stay on his sides and rotate around him until he stops blasting.
Incinerate – Raidwide damage.
Order – Gives you a debuff which indicates a forced march in a specific direction (relative to where your character is facing). You'll march about half the distance of the arena, so aim to land in one of the bubbles that will add the correct value to your HP to give you the desired number.
Divide by Three, Divide by Four, etc. – The boss adjusts your HP to be a single digit. Your new HP needs to follow the rule in his castbar. Standing in one of the bubbles adds that value to your current HP. Remember you will be doing a forced march from Order, so plan where you want to go. Depending on your HP, you may not need to be in a bubble to satisfy the castbar rule.
Train – Same rotating conal attack as Basic Training in the beginning, but this one lasts longer.
Metal Fox Chaos*
Triggered by the Skirmish 'Of Steel and Flame' in The Alermuc Climb
Like most mechanical bosses, this one is also weak to magical attacks, so bring Lost Spellforge if you want your physical jobs to deal extra damage. The main mechanic of this fight is the reflector bits lined up around the edge of the arena. The bits reflect the boss' attacks when hit, firing in straight lines across the field. These reflections will activate another set of reflector bits. Keep an eye on where the boss is launching his attack, and in what order the reflector bits will be struck.
Diffractive Laser – Wide conal AoE towards one side of the arena. Activates reflector bits. Stick close to the boss and rotate around into the safe quadrants.
Laser Shower – Circle AoEs on one edge of the arena. Activates reflector bits. The ones hit first and the ones hit last have opposite AoEs, so you'll sidestep into the spot where the first ones fired.
Satellite Laser – Raidwide damage. Activates all reflector bits at once. Find a safe spot by lining up in front of an empty space in both directions.
Rush – Jumps towards a random player with a rectangular AoE.
This Critical Engagement rewards you with 10 Forgotten Fragments of Resolve for completing it.
*Duel – Avoiding all AoEs qualifies you for the 'And the Flames Went Higher' Duel after this Critical Engagement.
Duels
Duels are special 1v1 Critical Engagements that you must qualify for in order to register for them. You qualify by completing a specific Critical Engagement without obtaining any vulnerability stacks, which you get from being hit by avoidable AoEs. Essentially, you have to execute the Engagement's mechanics perfectly, and then you'll be eligible for a one on one Duel.
If you successfully complete all three duels and earn their achievements, you'll get the achievement 'Close Encounters' and earn the title of 'Sword of the South…'.
Aces High
Complete the Critical Engagement 'Vigil for the Lost' in the Southern Entrenchment without any vulnerability stacks
Defeat Gabriel for the achievement 'Missing an Angel' and the title 'Gabriels' Downfall…'.
Beast of Man
Complete the Critical Engagement 'The Hunt for Red Choctober' in Old Bozja without any vulnerability stacks
Defeat Lyon the Beast King for the achievement 'Lyon's Share' and the title 'Queller of Beasts…'.
And the Flames Went Higher
Complete the Critical Engagement 'Metal Fox Chaos' in The Alermuc Climb without any vulnerability stacks
Defeat Sartauvoir quo Soranus for the avhievement 'Burn Baby Burn' and the title '…The Death of Flame'.
Castrum Lacus Litore
Once you reach Resistance Rank 10 and progress the Resistance storyline, you'll be eligible to register for the Critical Engagement 'Castrum Lacus Litore', often just referred to by players as 'Castrum'. It's a large-scale assault, very similar to an Alliance Raid, with a bit more of a Dungeon feel. I've heard that it only spawns when there are enough eligible players in the instance, and only about once per hour.
Everyone seems to prefer /yell to communicate while in here, which is the yellow text with a range in between /say and /shout. It makes sense, since you may be separated from other players within the Castrum that are too far for /say to reach, but /shout still goes out to everyone in the entire Bozjan Southern Front.
You'll want to complete Castrum to progress your Resistance Weapon questline (be ready for some cutscenes after you clear it). You'll also earn Bozjan Coins which you can use to purchase the i495 Bozjan Armor sets at Utya's Aegis, and depending on how well you do in the 'dungeon' part of the instance, you'll earn high rank Forgotten Fragments, only obtainable here. I guess you can always buy them from the marketboard, but the point is, they're much more scarce.
Lost Finds
Once you reach Resistance Rank 2 you'll unlock Lost Finds, which include both Lost Actions and Items. This system is very similar to the Logos Actions back in Eureka, except you unlock them very early on here, which is great.
The number of Lost Finds can be intimidating at first; there are so many of them that you may be overwhelmed. I have to say, though, that they are a ton of fun to play around with and let you do some helpful and unusual things.
Forgotten Fragments
You'll find Forgotten Fragments by defeating enemies and completing Skirmishes and Critical Engagements, and you can then have them appraised by the Resistance Appraiser next to any Lost Finds Cache, denoted by a blue chest on the map. These are at every Aethernet location. You can also buy and sell unappraised Fragments on the Marketboard.
There are many different types of Fragments, each with its own list of actions it may contain when appraised. The Fragment description will state the possible actions, as well as what Resistance Rank you need in order to have it appraised. Low rank Fragments are obtained from enemies in the easier south areas of the map, while higher level Fragments come from the higher rank areas as you travel north. Especially high Fragments (Rank 11+) are dropped from Castrum Lacus Litore.
Someone made a very organized Forgotten Fragments Table that's great to use as a quick reference for where to go for more Fragments if you need a specific Lost Find. It doesn't list drop rates or rank requirements, so if you need those I've listed the ranks here, and linked to another reference chart in the drop rates section below.
Resistance Rank 2
Fragment of Caution – Manawall, Stealth, Protect, Shell, Cure, Cure III, Incense.
Fragment of Preparation – Phoenix, Potion
Fragment of Skill – Aetherweaver, Martialist, Savior, Veteran, Platebearer
Resistance Rank 5
Fragment of Ingenuity – Paralyze III, Banish III, Dispel, Spellforge, Steelsting, Swift
Fragment of Care – Reraiser, Potion Kit, Ether Kit
Fragment of Awakening – Guardian, Ordained, Skirmisher, Watcher, Profane, Irregular, Breathtaker
Resistance Rank 8
Fragment of Support – Reflect, Stoneskin, Bravery
Fragment of Violence – Focus, Slash, Death
Fragment of Resolve – Noble Ends, Honored Sacrifice, Tireless Conviction, Firm Resolve, Solemn Clarity, Honed Acuity
Fragment of Compassion – Cure II, Cure IV, Arise, Medkit
Resistance Rank 11
Fragment of Superstition – Bloodsucker, Beast, Templar
Fragment of Mastery – (Deep) Aetherweaver, Martialist, Savior, Veteran, Platebearer
Resistance Rank 12
Fragment of Sagacity – Font of Magic, Font of Skill, Font of Power
Resistance Rank 13
Fragment of Becoming – (Deep) Guardian, Ordained, Skirmisher, Watcher, Profane, Irregular, Breathtaker
Resistance Rank 14
Fragment of Transcendence – (Deep) Bloodsucker, Beast, Templar
Resistance Rank 15
Fragment of Caprice – Fair Trade, Mimic, Dynamis Dice
Forgotten Fragment Drop Rates
There are special enemies around Bozjan Southern Front with a star symbol next to their name. These are kind of like S rank monsters, and reward you with a large number of Forgotten Fragments for defeating them. They drop a specific Fragment type depending on which of the three zones they're located in. The three types of Fragments are Caution, Ingenuity, and Violence for the south, central, and north areas respectively.
If you're interested in farming particular Fragments, someone has posted charts listing the map's enemies, locations, and drop rates. I went out to try a few of the 100% drop rate enemies to see how viable farming Fragments was. I will note that some of the ones listed there say a specific number, but from my experience it's more of a range, with that number being the maximum.
Here are some of the more convenient ones I tried to tackle. They get more and more difficult the further north you go, obviously, but also the higher the number next to the mob's name. I wouldn't recommend soloing 'IV' or 'V' marked enemies without first preparing some good buffs with your Lost Finds.
Fragment of Preparation x2 – Bozjan Geshunpest [24, 29, Night] east of Utya's Aegis
Fragment of Skill x1-3 – Bozjan Matamata [31, 26] southeast of Olana's Stand.
Fragment of Care x1-2 – Bozjan Wight [24, 21, Night] northwest of Olana's Stand.
Fragment of Awakening x1 – Bozjan Taipan [16, 24] east of Lunya's Stand.
Fragment of Violence x1 – Bozjan Gravekeeper [19, 17, Night] west of Camp Steva.
Lost Finds Cache and Holster
Once appraised, you'll add the action to your Lost Finds Cache, and can assign them from your Cache to your Holster to carry with you. The Abilities can be assigned to two Duty Action slots. I recommend setting up keybinds for Duty Actions. Go to System > Keybinds > Hotbar, and the two Duty Action slots will be at the very bottom.
Each action has a 'weight', seen at the top left corner of the icon, and weight limits how many actions you can hold in your Holster at once. You start with a capacity of 30 units, but every Resistance Rank you earn will increase your maximum a little bit. Check back in when you rank up to see what else you have space for in your Holster, and save new sets.
It takes a little getting used to, but the save and load set buttons allow you to fill your Holster with your preferred set of items and actions. This is handy if you've consumed some of the Lost Finds you were holding and want to quickly stop by a Lost Finds Cache to refill your Holster. Not all Lost Finds can be used by all Jobs, so saving different sets for different Jobs will make sure that there's no wasted capacity in your Holster, holding onto a Lost Find you can't even use. You can also rename your sets by right clicking them in the save/load sets window.
When in combat, I try to keep my Holster open so I can easily click on items, but you can also drag these items from the Holster to a Hotbar for easier use.
Early Tips for Lost Finds
Personally I was a little overwhelmed by the number of Lost Finds when I first started, so I'll try to give some tips for starting out. I'll list some of the most useful Lost Finds you have access to from the beginning at Resistance Rank 2.
All Jobs can make use of Protect and Shell, and they have infinite uses. Try those out to start, and give your allies some long-lasting physical or magical mitigation. You can cast these abilities on players outside of your party as well.
Manawall is also usable by everyone, but it only has two charges. If you need to tank a really heavy hit it can be useful. Let's say you're a Healer or Red Mage trying to prevent a wipe in a Critical Engagement; Manawall gives you 6 seconds of protection while you try to raise some allies. It gives massive (90%) damage mitigation as well as a knockback prevention. Keep in mind that it also afflicts you with Heavy.
The Resistance Phoenix can be useful on non-raising Jobs in a last-ditch attempt to prevent a wipe. I always try to keep at least one on me when I play Tank or DPS so I can get a Healer/Red Mage up to start raising everyone. For a similar reason, consider taking Cure III to offer some help healing the party in an emergency.
For the Lost Items labelled 'Essence of…' or 'Deep Essence of…', you can only have one active at a time, and the buff lasts indefinitely when used. However, if you change Jobs or leave the instance of The Bozjan Southern Front, you will lose it. Fragments of Skill are relatively easy to get, so it's nice to have some kind of Essence active at all times; Just be mindful not to completely waste them if you plan on switching Jobs a lot while in the instance.
Aetherweaver and Martialist respectively allow Healers and Tanks to deal more damage.
Savior allows Tanks, Melee, and Ranged to be more effective with healing (which is obviously good to combine with one of the Lost Cure Actions).
Veteran gives Healers and Casters stronger defenses, while Platebearer does the same, but for Melee and Ranged.
Remember that changing Jobs within Bozja removes all your Essence and Deep Essence effects, but your assigned Duty Actions remain the same. They simply become unusable if they aren't allowed by your new Job. Use another Lost Action from your Holster to replace the one on the Duty Action.
What Kind of Rewards Can I Get from Bozja?
Resistance Weapons
Much like Eureka, the Bozjan Southern Front has its own compelling storyline, and it's also how you earn and upgrade your Relic Weapon for the expansion. You'll continue the Resistance Weapons questline through the BSF, and if the weapon is what you're after, you'll want to make sure to hop out of BSF back into Gangos to do the short sidequest 'A Sober Proposal'.
For Want of a Memory
Then you can pick up the repeatable quest 'For Want of a Memory' from Zlatan at [6.1, 4.9] in Gangos. You'll receive the weapon for the Job that you were on when you accepted the quest. You can abandon and pick up the quest again on a new Job.
That quest will let you start earning 'Memories of the Dying' tokens to upgrade your weapon to the next stage. Remember to retrieve materia on your weapon before you turn it in for an upgrade! There are three types of tokens, and you'll need 20 of each. As long as you've accepted the quest, you can earn tokens. You don't have to be using the same Job that you took the quest with.
The tokens have a chance to drop when defeating enemies, or completing Skirmishes and Critical Engagements. You'll get a different type of token from different areas of the map.
Tortured Memory of the Dying – The Southern Entrenchment (Available at Resistance Rank 1+)
Sorrowful Memory of the Dying – Old Bozja (Available at Resistance Rank 5+)
Harrowed Memory of the Dying – The Alermuc Climb (Available at Resistance Rank 8+)
Alternate Methods
It's important to note that there's an alternate way to earn these tokens, which is by completing FATEs in the Heavensward zones, which are each guaranteed to drop a token if you achieve a gold rating for your participation.
This alternate method is much faster! If you just want to quickly move on with your weapon, it's definitely easier to join a FATE farming party in the Heavensward zones to rack up tokens quickly.
Tortured Memory of the Dying – FATEs in Coerthas Western Highlands and The Sea of Clouds
Sorrowful Memory of the Dying – FATEs in The Dravanian Forelands and The Churning Mists
Harrowed Memory of the Dying – FATEs in The Dravanian Hinterlands and Azys Lla.
Side note: beware of special achievement FATEs in Heavensward zones. These are boss FATEs that are much more difficult than usual, and have an Achievement (and possibly item drops) associated with them. You'll notice them by the special boss music and the fact that they have way more HP than other boss FATEs in the zone. For example:
Coerthas Western Highlands – 'We Fought a Dzu'
The Dravanian Forelands – 'Special Tarasque Force'
The Dravanian Hinterlands – 'Metal Gears Revengeance 2'
Doing these special FATEs takes longer, and you'll definitely want a decent amount of people to help. On the plus side, you get Achievements!
The Will to Resist
The next step of the Resistance Weapon involves collecting more memory tokens, called 'Bitter Memories'. If you don't want to do it all in Bozja, there's another quick alternate method: running synced level 60 dungeons or the Levelling Roulette (once per day). You only need 6 for this step, so it's not so bad.
Note that you can have this step active on one Job and 'For Want of a Memory' active on a different Job, so you can earn different kinds of tokens at once. You can also earn more tokens than you need, and save them to use on a different Job's weapon.
Bozjan Armor Sets
If you're high enough rank to enter Castrum Lacus Litore, you can earn Bozjan coins and spend them to buy Bozjan Armor from the Resistance Supplier at [15.2, 29.9] at Utya's Aegis. These are ilvl 495 pieces which look pretty cool. They can be augmented with more coins to provide some Haste while wearing them in Bozja. A full set for one role will cost you 98 Bozjan Coins. Both the regular and augmented sets can be dyed.
Cosmetics
There are a number of exclusive cosmetics available on the Bozjan Southern Front, including an emote, hairstyle, and mount, which can be purchased from the Resistance Quartermaster at [14.2, 29.7]. You'll buy them using the farmable Bozjan Clusters which drop from various monsters around the map.
Refer back to those charts to see which enemies are good for general cluster farming. You'll want to do this with a group for safety and speed.
There are lootboxes in The Bozja Southern Front called Southern Front Lockboxes, which drop from Skirmishes and Critical Engagements. The Lockboxes can also be obtained from the Resistance Historian [15.0, 29.1] in exchange for any duplicate Field Notes you collect.
You can have the Lockboxes opened by the Resistance Locksmith located at [15.1, 29.8] near the main Aetheryte. For the most part you'll get junk like combat Materia and Magicked Prisms (fireworks), but there are some rarer cosmetic items like glowing weapons, furnishings, a parasol, orchestrion roll, bardings, minion, and a mount.
Experience vs Tomestones
As mentioned earlier, depending on whether your current Job is level 80 or not, Skirmishes and Critical Engagements will reward you with either combat experience or endgame Tomestones. You can switch Jobs while you're in the instance, but only if you are not currently in combat or inside a Critical Engagement.
I wouldn't go out of my way to farm Tomestones, with this content, since you only earn a small handful at a time. Still, it's nice to know that if your primary focus is BSF then you won't have to worry quite as much about getting your weekly capped Tomestones with tons of playtime outside of that content.
I don't have any Jobs currently in the 71-79 range, but I've heard that the experience gains are pretty good if you're using the Bozjan Southern Front for levelling. It sounds like it's not a bad way to spend those last 9 levels, especially since you're synced up to level 80, so you also get to use more actions than you might normally have, kind of like how Heaven on High or Palace of the Dead work for earlier levelling.
Summary
I highly, highly recommend checking out The Bozjan Southern Front, whether you have a group beforehand or not. Even if you hated Eureka, there are enough quality of life improvements here that it does not feel like as much of a slog as Eureka was. I also couldn't get into the Eureka storyline, and will probably have to go back and rewatch it at some point. Bozja on the other hand, had me hooked from the start, and there are some exciting cutscenes to look forward to.
I'll continue to update this post as I explore more of the content. I definitely want to mess around with more Lost Finds and see what applications they can all have. Each Critical Engagement also has its own tricks to success, and Field Notes to drop, so that's another attractive task for completionists to tackle.
I hope you're having lots of success on The Bozjan Southern Front. Leave a comment if you've found any really useful tips or tricks so far. Helping other players climb just means more opportunities to run Castrum!