High level players know that part of the endgame of FFXIV involves melding a lot of materia onto your equipment to push your stats as high as you can. This is true for both combat and non-combat Jobs, which use different types of materia. In fact, crafters and gatherers are even more likely to need the extra points, and require a ton more materia to overmeld their gear.
By the time you reach level 80, you may have built yourself up a hefty stack of various materia, but never put them to use. Well I hate to break it to you, but while you might think you're rolling in it, that ain't nothing compared to what you're going to need.
There are three types of materia: combat (red, purple, and yellow), crafting (blue), and gathering (green). To save gil, many players will use some lower grade crafting and gathering materia to lessen the impact overmelding has on their wallet. For the most part though, the valuable materia everyone uses are grades VII and VIII, so that's what I'm going to talk about in this post.
I'll cover the various activities that yield high level materia, which ones are easiest, most efficient, or most reliable. Some of these sources are efficient but limited daily or weekly tasks, while others are less efficient but grindable. See which ones make the most sense for you based on how much time you have and what activities you find enjoyable.
Materia Transmutation
One really important system to know about is materia transmutation. It allows you to trade in 5 unwanted pieces of materia for a different materia of equal or greater tier.
To unlock materia transmutation you'll need to complete the level 19 quest 'Marvelously Mutable Materia' in Central Thanalan. This is a sidequest available as soon as you meet Mutamix Bubblypots in the Main Scenario Quests, so I recommend doing this as soon as you get there. You do not need a crafter levelled, but you do need to return here and have Mutamix transmute the materia for you.
The materia you get as the end result from the transmutation will never be one of the varieties you used in the input. There are eight varieties of combat materia (Critical Hit, Direct Hit, Determination, Skill Speed, Spell Speed, Tenacity, and Piety). There are three varieties of crafting materia (Craftsmanship, Control, and CP), and three varieties of gathering materia (Gathering, Perception, and GP).
Use this knowledge to your advantage to try to steer your transmutations towards your goals. Get rid of many unwanted varieties at once, and don't use valuable materia that can be sold on the marketboard instead. I often put in five combat materia to try to get any non-combat materia, which has a higher market value.
Combat Materia
While some sources drop random individual pieces of materia, other sources drop tokens which can be traded for materia of your choosing. These tokens are Cracked Stellaclusters (for grade VIII materia) and Cracked Planiclusters (for grade VII materia). Take these tokens to Cholline in The Crystarium [10.6, 13.2] or Thex in The Canopy in Eulmore [10.7, 11].
Shadowbringers FATEs (Bicolour Gemstones)
Shadowbringers introduced the Shared FATEs system, which allows you to earn a new type of currency by completing FATEs in Shadowbringers zones.
There are <Gemstone Traders> stationed in Fort Jobb (Lakeland), Lydha Lran (Il Mheg), Fanow (The Rak'tika Greatwood), Twine (Amh Araeng), Tomra (Kholusia), and The Ondo Cups (The Tempest). If you've already reached the max rank in all these Shared FATEs zones, then there will also be traders in Eulmore and The Crystarium.
I'll be honest, this is not an efficient means of getting combat materia. You get 12 bicolour gemstones from one FATE. The grade VII materia costs 120 gemstones and the grade VIII materia costs 240. 20 FATEs for a single piece of VIII materia (the one you'll actually want most of the time) is far too many.
Even if you're not interested in the cosmetics from these vendors, there are other consumables that are a much better value. Grab some Cordials, Dark Matter, Glamour Dispellers, or Glamour Prisms. Just don't bother with the materia here.
Shadowbringers Hunts (Sacks of Nuts)
This is another currency that you can use to buy some materia, but it's pretty inefficient. At 150 Nuts for a grade VII, and 400 (why did they break the trend of simply doubling the price? I don't know) it's just not worth the amount of time you've put in to earn them.
Of course, it kind of depends on how you're earning and spending Nuts. If you're really hardcore into Hunt trains, then eventually you're going to have more Nuts than you can carry. There are no other reusable consumable items available, so materia is the best sink to avoid overcapping.
You should also keep in mind that depending on where we are in the expansion, upgrade items for tomestone gear can be purchased using Nuts. Don't spend them all on materia if you think you'll be looking for those items later to augment your equipment.
Fairy Beast Tribe (Fae Fancies)
Beast Tribe quests might be tedious, but they're a steady, easy way to have a supply of materia at the ready. One day's worth of quests is enough for a VII combat materia, and two days of quests gets you enough for a VIII combat materia. These quests are pretty short though. They don't take too much time and can easily be done while waiting in a queue.
If you've been using the Fairy Beast Tribe quests to level your combat Jobs through the 70s, then you may already have a stack of Fae Fancies waiting to be used. The best thing to dump them on is definitely the materia, assuming that you either already have or are just not interested in the other items, which are all cosmetics.
Even if you aren't currently levelling any Jobs through this level range, I still recommend getting the quests done on a level 80 Job. That way you'll always have a source of materia here, and it helps you earn your weekly Tomestones of Allegory a little bit faster.
Treasure Hunting (The Dungeons of Lyhe Ghiah)
If you've never gone out Treasure Hunting before, the first thing I'll tell you is that it sees ups and downs of popularity. More people will want to do this content when there are shiny new drops added to the dungeon, so keep an eye on the patch notes in case they add new crafted glamour items.
This is important because it's not really a solo activity. You need other people to join you for the Treasure Hunt dungeon delving. If you don't have a willing and able group of friends, you'll want to head to Party Finder or a dedicated linkshell where you rely on others' interest.
If you are running the dungeon you'll be rewarded with random VII and VIII materia dropping into your inventory. You can also earn materia from the treasure maps themselves after defeating the overworld enemies, regardless of whether a portal opens or not. Since it's random which varieties of materia you get, you'll probably want to either sell or transmute some of them afterwards.
Max Level Dungeons
All of the level 80 dungeons drop VII and VIII materia from the treasure chests you pass by. Be sure to open them all up to maximize your loot. Looting everything also gives you more equipment to Desynthesize, so I always recommend hitting all the chests.
Since the varieties of materia are random, and it's mostly grade VIIs, it's not hyper efficient to farm these duties for this purpose. Just enjoy the materia dropping into your inventory as you run your Expert Roulette or your Level 80 Dungeon Roulette. Remember to sell or transmute them afterwards to pick up the varieties of materia you actually care about.
Wondrous Tails
A lot of people sleep on the Wondrous Tails, and to be honest I can't be bothered to do it every week either. However, the rewards are decent and give you a few options, so definitely pick up a journal after Tuesday's reset to see if it's worth working on slowly throughout the week.
Some of the options available are Khloe's Certificates of Commendation, which can be traded to her for Cracked Stellaclusters or Cracked Planiclusters. Bronze, Silver, and Gold Certificates give you enough for 2, 4, or 12 grade VIII materia respectively. If you want grade VII instead, the Planicluster exchange gives you twice as many.
Adventurer in Need (Levelling & Alliance Roulettes)
Maybe you've never received one, but the Levelling and Alliance Roulettes can actually be used to grab high level combat materia. What's better is that it's not limited to once per day, because the reward doesn't come from the daily bonus. You get a single Cracked Stellacluster and two Cracked Planiclusters, which can be traded for a VIII and two VII materias of your choice.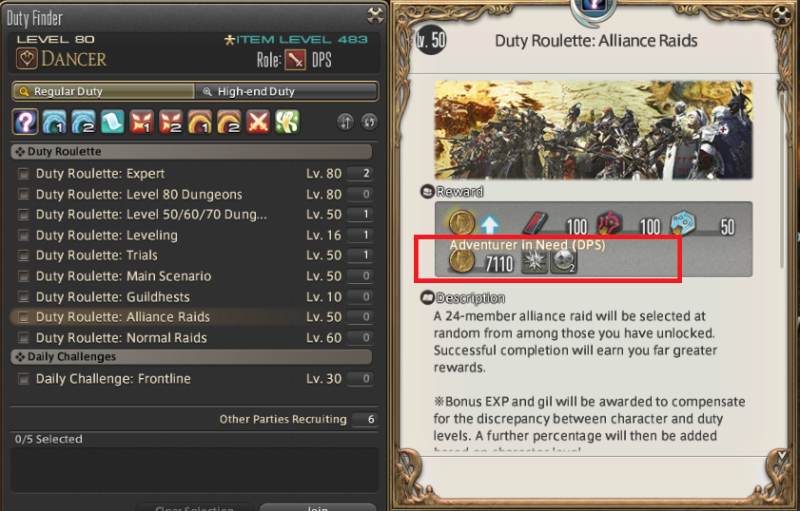 The clusters are both rewards from being an Adventurer in Need. If you're comfortable on any role, this is an on-demand method to bank materia. The Levelling Roulette is most frequently in need of a Tank or Healer, while the Alliance Roulette is often looking for a Healer or DPS. Remember that you need to be level 80 on that Job to get the clusters.
Max Level Alliance Raids
Running the current Alliance Raid will give you one Cracked Stellacluster per week, which can be exchanged for a VIII combat materia of your choice. While it may seem like a moderate time investment for a single materia, keep in mind that upgrading your tomestone gear can be done at the same time, using the tokens from these raids.
Even when the rest of the Alliance Raids come out, you'll still need the tokens from the earlier ones in the sets. Stocking up on these will help you quickly grab augmented versions later in the expansion, so it may still be worth it for you to run this every week.
Spiritbonding
Equipment you use in combat becomes spiritbonded to you, at which point it can no longer be sold to other players. As you use the gear, the spiritbond bar will fill up, and at 100% a piece of materia can be extracted from the gear. Right click and select 'Extract Materia'. This resets the spiritbond gauge to 1% and you can continue to build it once again.
Combat gear doesn't build the spiritbond gauge particularly quickly, so this is definitely not a reliable means of farming materia. However, if you play primarily on one main job (or one main role that shares equipment), then you should check every so often to see if you can extract some high level combat materia. It's free after all, so there's no downside.
Consider adding Materia Extraction to a shared hotbar so you remember to check it now and then. The action can be found in the Actions & Traits window, under the General tab.
Crafting and Gathering Materia
Noncombat materia tends to be more valuable on the marketboard due to how much of it is needed (and lost) to the practice of overmelding. While overmelding is a bit more rare for combat equipment, it's extremely common to do on your crafting and gathering equipment sets.
If you're familiar with the cluster tokens used to buy materia of your choice, the noncombat version of these items are called crystals. Specifically, Cracked Stellacrystals are used to get grade VIII materia, and Cracked Planicrystals can be traded for grade VII materia.
Custom Deliveries
By far the most time efficient means of getting materia for your crafters and gatherers is by doing your weekly Custom Deliveries. The efficiency is even greater if you always choose the turn ins highlighted with a bonus. Some weeks can be sparse on bonuses, but I always go for them when I see them. Note that these are limited weekly turn ins, so you can't grind them. They're such a huge chunk of scrips though that I recommend you do them every week religiously.
These custom deliveries will give you yellow and white scrips, which can be traded for different grades of materia for your crafters and gatherers. Be sure to do the crafting turn ins for crafting scrips and materia, and gathering turn ins for gathering scrips and materia. A lot of new players don't realize that these are two different currencies and are not interchangeable.
It's actually four currencies when you count the white scrips, which are used to buy the highest grade VIII materia. To earn white scrips your Disciple of the Land or Hand will need to be max level (80), or else they will earn experience instead. Yellow scrips will always be awarded regardless if you're max level or not.
Collectables Exchange (Rowena's House of Splendors)
This is the grindy, always available method of getting yourself some non-combat materia of your choice. You can earn yellow scrips for grade IV-VII materia, or white scrips if you need grade VIII materia. You'll find Rowena's employees in almost every city hub, labelled as 'Scrip Exchange' and 'Collectable Appraiser'. If you can't find the specific grade you're looking for, check the appropriate sections as shown in this image of the 'Scrip Exchange' NPC's window.
Use the timers menu (default keybind Ctrl+U) to check out which items are being requested, and which ones have bonus earnings attached to them, indicated by a gold star next to the item name. Always look for the starred items first for maximum efficiency.
You should also check the bottom of the window under the payment section to see the collectability required for the highest bonus scrips. Keep this in mind when you're crafting or gathering your items. At the very least you need to meet the base collectability requirements, or the item will not be accepted by the Collectable Appraiser.
For crafting scrips, know that Alchemists will always have a tincture of some kind as one of their requested turn ins. If you stock up on the base ingredients for those, you'll always have an opportunity to pick up white scrips in a pinch. You may also want to find or create yourself a crafting macro that works with your stats to reliably craft high collectability items. Most of the items are the same difficulty so you'll only need one or two macros to cover your scrip turn ins.
If you're going for gathering scrips, you can make use of tools like Garland Bell to alert you when your target gathering nodes are spawning, and remember to turn on Collector's Glove before you gather! You should also keep a good stock of cordials to replenish your GP if you're going to gather from several nodes back to back.
Qitari Beast Tribe (Qitari Compliments)
Qitari Beast Tribe quests are incredibly easy to complete, especially if you've already levelled your gathering Jobs. Each daily quest rewards you with a Qitari compliment, the currency you'll use to trade with the <Qitari Vendor>.
Aside from cosmetics, the only practical items to buy are gathering materia. They offer grade VII materia for three compliments, and grade VIII materia for nine. I usually do my quests every day and then come to buy materia when I need it, since there's no limit to how many Qitari compliments you can hold.
One tip for making your daily quests even easier than they already are: gather extra items when you take on a quest. This saves a lot of time since most of your questing time is spent travelling. I usually gather 3-4 times the amount anytime I have to actually pick up more, and it means that I often only have to do one Qitari quest.
If you've got the inventory space you can hold onto the required turn-ins and that will save you a trip the next time you get that same quest. Of course, this might be difficult if you're constantly struggling with bag space, so make sure you know how to manage your inventory first.
Some of the quests do not require items to be turned in, such as the chicken hunting or garden tending in Slitherbough, or the quests that make use of the mount. There's no way to shorten these quests, but at least they're super simple. Overall, this is by far the easiest regular source of gathering materia.
Wondrous Tails
Your weekly Wondrous Tails journal will have Khloe's Certificates of Commendation as possible rewards. These can be traded to Khloe in Idyllshire for Cracked Stellacrystals or Cracked Planicrystals, which can in turn be traded for grade VII or VIII non-combat materia of your choice.
Non-combat varieties of materia are more valuable than combat materia, so if you're used to using Certificates of Commendation for combat ones, be aware that the exchange rates are halved. Bronze, Silver, and Gold Certificates can essentially be turned into for 1, 2, or 6 grade VIII materia respectively. If you want grade VII instead, the Planicrystal exchange gives you twice as many.
Treasure Hunting
Just as it's a source of combat materia, the Dungeons of Lyhe Ghiah will reward you with non-combat varieties of materia if you raid them in Treasure Hunting parties. It's certainly not a reliable means of farming them though, since it's all random. You might end up obtaining more gil and buying the materia outright from the marketboard.
Transmuting Combat Materia
One of my favourite ways to get crafting and gathering materia is by using materia transmutation as I mentioned earlier. Due to the way materia transmutation works, you can actually improve your chances of getting certain materia if you do it right.
If I've just gone and done a bunch of Treasure Hunting or max level dungeons, there's a good chance I've got a lot of random grade VII combat materia sitting around in my inventory. What I like to do is head over to Central Thanalan for some transmutation, and submit five different combat materia. This leaves the remaining three combat varieties and the six crafting and gathering varieties as the possible outcomes of the transmutation. Since crafting and gathering materia is much more valuable, this has a high chance of being a good trade.
Of course, you still can't guarantee you get a specific type of materia from this random trade. Given how overmelding works for crafting and gathering equipment though, it's fair to say you'll have some use for any of these materia, and they often sell very well on the marketboard as a last resort.
Spiritbonding
Depending on your playstyle and what you do with your in-game time, your crafting or gathering equipment sets might see a lot of wear and tear. This increases your repair bills, but it also increases the frequency at which you can extract materia from these well-used outfits. Now that materia extraction no longer destroys the item, there's no reason not to use it.
I find my gathering equipment to refill the spiritbond gauge the most often. It's very easy to stop and extract materia as soon as you're finished with your current gathering node. Be sure to do this right away and go back to building those spiritbond gauges. It's especially helpful if the different pieces are all on the same 'cycle'. All the accessories and the belt for example should be ready at the same time.
Crafting equipment is a little slower than gathering gear, but this materia is so valuable that you definitely want to keep a close eye on any possible extractions you can do. I always put the Materia Extraction action on a visible hotbar space for my crafters, so I can check on it frequently.
Summary
I hope this pointed you in the direction of some materia sources you maybe haven't been using. When you start preparing multiple combat and non-combat jobs for endgame content, you find you go through materia really quickly. Make sure to keep tabs on your Materia Extraction for equipment that has a 100% spiritbond.
My personal go-to for materia is always my Beast Tribe currencies. If my saddlebag is all out of Cracked Stellaclusters, I just teleport over to Lydha Lran or Fanow and spend some of my tokens. I also make sure to do my Custom Deliveries every week and just stock up on various crafting materia so I don't overcap my scrips.
Making use of different activities in FFXIV can get you geared up with relatively little stress, so what's your preferred source of materia? Let me know in the comments.